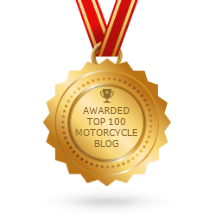 I received word over the weekend that
Life on two wheels
was recognized, based on social media metrics, as one of the top 100 motorcycle blogs.
I can't begin to express what a pleasant surprise that is.
I'd like to thank Anuj Agarwal and the gang at
FeedSpot.com
in San Francisco for their work in gathering and analyzing the data and getting the word out to the sites who earned the recognition. It is very much appreciated.
A lot of effort has gone into this journal, as any blogger can attest. I can't believe that it will soon be seven years since I started sharing my life on two wheels here. Those of you who want to travel back in time to see what that looked like, and how it has evolved since that day in March 2010
in a hotel room in Calgary, Alberta
, when I clicked to publish the very first post, are invited to
click here to enter this journal's time warp
.
Lately the pace of posts has slowed to a crawl. I blame (i)
the vlog
, and (ii) my son's nascent
business venture
, for chewing up too much of my blogging time.
In future I hope to find a balance between good old-fashioned prose bytes, and new-fangled video bytes... and now I'm thinking that this whole top 100 thing deserves its own vlog episode...
Thanks for reading, and thanks for following the vlog. Episode 5 should hit YouTube this afternoon.
------------------------------
PS:
It must be real because I got a similar confirmation later in the month from
10Selects.com
also based on social media rankings.